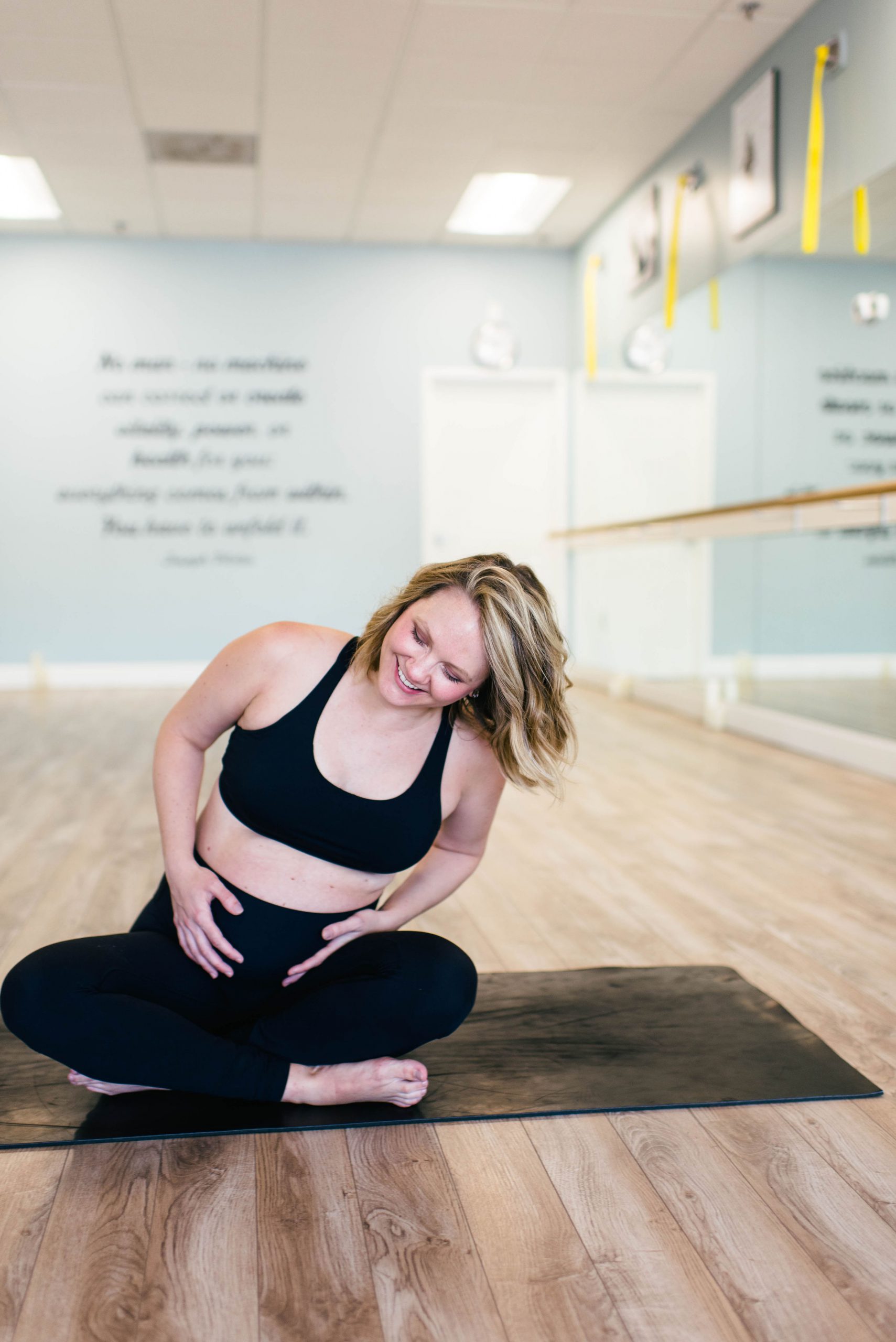 Hi! I'm Kathleen. Lover of wine, salads with a side of fries and moody alternative music. When I'm not chasing after my sweet and active toddler, you can likely find me snuggled with my pup on the couch, a cup of hot coffee in hand. If you know me you know one of my guilty pleasures includes belting my karaoke rendition of Natalie Imbruglia's "Torn" and I'm proud to say my son has taking a liking to his mom's alternative music taste!
After my first pregnancy and postpartum experience, I quickly came to realize slow and steady really does win the race. There is nothing more humbling after having a baby than reaching off the side of the bed and realizing you don't have the core strength to get back up… I had to have my husband pull me back onto the bed.

I think there is something to be said about moms willing to put in the foundational groundwork and use the building blocks necessary to rebuild core and pelvic floor strength. Our bodies were not meant to simply "bounce back," and it's not normal to pee your pants when you cough, laugh, sneeze, etc. I love helping moms meet postpartum goals that have nothing to do with the number on the scale, because at the end of the day, that's not how real strength is created.
Prenatal fitness should reflect our postpartum goals. Why not do workouts that help ease some of the pregnancy pain points, but also create a mind-body connection that supports postpartum healing? I want to help YOU meet your goals. When describing my workouts as "holistic," I truly mean that these workouts are meant to work your body from the inside out and activate your deepest muscles so you feel stronger as a result.
Working out shouldn't feel like a chore. And it shouldn't leave you feeling more beaten down than when you originally psyched yourself up to workout in the first place. I want my workouts to leave your body feeling NourishedAF – both "Nourished and Fit" and "Nourished as F**k" :). I want you to leave each workout feeling accomplished, invigorated and ready to take on the day. Won't you join me?
Kathleen is a Nationally Certified Pilates Instructor, Pre and Postnatal Fitness Specialist, Registered Dietitian & Barre Instructor.
Love working out on your own time? I have a library of online workouts queued up and ready to go. Click Here to join my online membership.
For information about upcoming LIVE workouts, join my mailing list to receive all the details. 
Want personalized attention? In person (KC local) or Virtual options available. I'm now accepting clients for my waitlist. Click Here to inquire about private sessions.
See what clients are saying about NourishedAF
Person 1
"Vestibulum dapibus odio at nisl consequat, in semper augue auctor. Duis risus felis, pulvinar quis tempus vitae"
Person 2
"Vestibulum dapibus odio at nisl consequat, in semper augue auctor. Duis risus felis, pulvinar quis tempus vitae"
Person 3
"Vestibulum dapibus odio at nisl consequat, in semper augue auctor. Duis risus felis, pulvinar quis tempus vitae"